---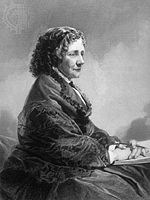 Harriet Beecher Stowe
Uncle Tom's Cabin or Life Among the Lowly is an anti-slavery novel by American author Harriet Beecher Stowe. Originally published in 1852, the novel had a profound effect on attitudes toward African Americans and slavery in the United States, so much so in the latter case that the novel intensified the sectional conflict leading to the American Civil War. The novel focused on the character of Uncle Tom, a long-suffering Black slave and depicts the cruel reality of slavery while also asserting that "Christian love" can overcome something as destructive as enslavement of fellow human beings
Uncle Tom's Cabin was the best-selling novel of the 19th century (and the second best-selling book of that century, following the Bible) and is credited with helping fuel the abolitionist cause in the 1850s. In the first year after it was published, 300,000 copies of the book were sold in the United States alone. The book's impact was so great that when Abraham Lincoln met Stowe at the start of the American Civil War, Lincoln declared, "So this is the little lady who made this big war."
Uncle Tom's Cabin or Life Among the Lowly: A Tale of Slave Life in America.
With Above One Hundred and Fifty Illustrations,
Drawn by George Thomas, Esq., and T. R. Macquoid, Esq.
and Engraved by William Thomas, Esq.
(Boston: Houghton, Mifflin and Company; The Riverside Press, Cambridge, 1888).
Shown are nine original woodcut illustrations from the 1888 edition.
Scans are from the originals.