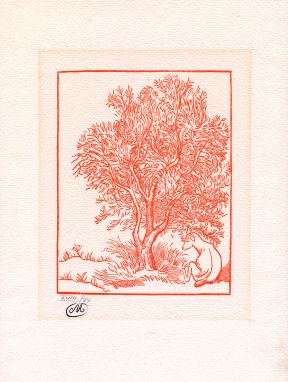 "Wild Olive Tree"
Book II, The Georgics of Vergil
This image was cut by Maillol between 1937 and 1944 when he died.
It was published in 1950 in The Georgics of Vergil. This print is not a bookplate from
that edition but one issued in a limited edition of 20 either before or after (most likely after) the 1950 book edition. Numbered limited editions of Maillol's woodcuts are very rare.
The print is a 4 7/8 X 6 3/4 inch image on Maillol's classic laid paper measuring 8 7/8 X 11 7/8 inches. It is printed in red-orange ink as shown. It possesses Maillol's classic monogram plus an edition number of XVIII / XX written in pencil above the monogram. The unmatted area of the print is slightly discolored from age as well as from the original non-archival matting. Otherwise, the print is perfect. Presented in a wood frame.