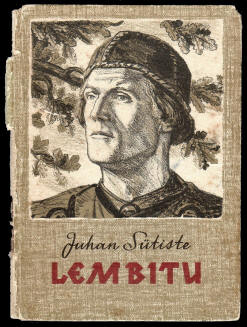 Lembitu

In the early 13th century, German Crusaders were slowly moving their campaign to Christianize Europe north into Livonia / Estonia. The resistance was led by Lembitu, an elder of Sakala County. The events recorded by Henry of Livonia in his Livonian Chronicle of Henry (Heinrici Cronicon Lyvoniae) tell of Limbutu, after numerous successes, assembling an army of 6,000, and in the decisive battle near Viljandi, on St. Matthew's Day (September 21, 1217), Lembitu was killed. The victorious Livonian Brothers of the Sword established their stronghold on the shore of Lake Viljandi, where the ruins of the Castle remain yet today. St. Matthew's Day is also still observed in remembrance of the struggle for freedom and independence. Lembitu is the first recorded leader of the Estonians and is remembered with a statue near the town of Suure-Jaani near Viljandi
Juhan Sütiste 1899-1945), an Estonian writer, poet and playwright,
wrote a play entitled"Ristikoerad in 1945 shortly before his death. It was published in 1950 as Lembitu and illustrated by Evald Okas with a number of two-color autolithographs. The play was made into an opera by Estonian composer
Villem Kapp (1913-1964) in 1961 and soon appeared in the repertoire of the Estonian National Opera.
Only one edition of the play Lembitu was ever published, that of the 1950 edition.
These Okas illustrations are from that edition
Evald Okas (1915-2011) was the grand master of Estonian art.
Primarily a painter, his lithographs and engravings, appearing mostly as ex libris prints, are in the richest tradition of graphic art. These illustrations are autolithographs, printed in two colors, where the artist himself drew onto the metal plates
that were used in the printing process, a technique not used today. In 1959 Okas went on to create 100 one-color autolithographs for the centenary edition of Kalivepoeg.

The text accompanying the above images is from the English synopsis of the opera Lembitu by Villem Kapp, based in the Juhan Sütiste play. The premiere of Lembitu took place at the Estonian National Opera on August 23, 1961.
---
Imagi Gallery

Email the Gallery for more information

BACK