"Chaineuse aout 51"
(Chained August 1951)
Original serigraph

From the Album of 10 Serigraphs, 1954-1955, this original serigraph is printed in colors on Arches wove paper, sized 15 x 22 inches. It is initialed (FL), titled (Chaineuse aout) and dated (51) in the screen, and numbered in pencil, (719/1000) at the lower right. A embossed blindstamp is in the lower right, reading: "F. Leger Serigraphie." Printed by Jean Bruller and stamped with Bruller's monogram "B" in lower left, this print was published by La Guilde Internationale de la Gravure, Geneva-Paris. The print has very wide margins and is an extremely fine impression.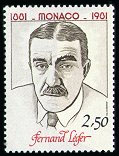 Stamp issued in Monaco
on the 100th anniversary
of Leger's birth.
F E R N A N D L É G E R
To inquire about this piece,
please contact the Gallery by email.
EMAIL INQUIRY
Imagi Gallery

RPF 1195