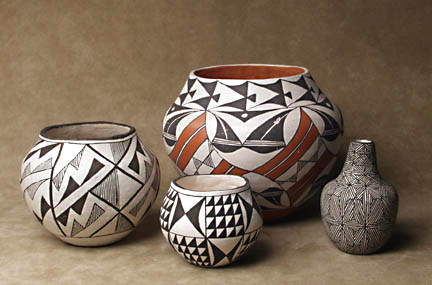 ACOMA PUEBLO

ACOMA PUEBLO IN NEW MEXICO, ALSO KNOWN AS '"SKY CITY," IS CONSIDERED
TO BE THE OLDEST CONTINUOUSLY OCCUPIED CITY
IN THE UNTIED STATES. AND FOR THOSE THOUSAND YEARS THE PEOPLE OF AAK'U HAVE BEEN MAKING POTTERY - VESSELS OF EVERYDAY LIFE, OF RITUAL AND OF GREAT BEAUTY. DURING THE 17th CENTURY ACOMA POTTERS DEVELOPED THE MATTE-PAINTED, POLYCHROME STYLE WHICH CONTINUES TODAY.
THIS GROUPING OF ACOMA POTS, EACH BY A DIFFERENT ARTISAN,
IS FROM THE PAST 60 YEARS, AND REPRESENTS A CROSS SECTION
OF BOTH THE FORMS AND THE DESIGNS OF ACOMA TRADITION.
EACH IS HAND-COILED, IN CONTRAST TO THE MODERN
SLIP-CAST TECHNIQUE, AND COVERED WITH THE CLASSIC WHITE SLIP,
INSIDE AND OUT, BEFORE DESIGN PAINTING. THESE POTS ARE PERFECT, WITH TWO DISPLAYING TYPICAL (AND AUTHENTIC) SURFACE "POPPING."