home | images I | images II | images III | images IV | images V
information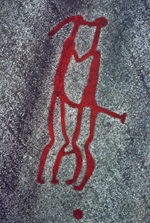 Heirogamy
Vitlicke
Tanum / Bohuslšn
Sweden


regarding the photographs
All photographs in IMAGI RUPESTRE are copyright and all rights are reserved.
© 1999-2011 R. Paul Firnhaber
Permission to download and use these photographs may be obtained under certain conditions,
but photographs may not be downloaded and used legally without permission.
Exhibits of this and other work have been held at numerous venues throughout the world.
Inquiries regarding exhibits are welcomed.
High-resolution digital images, as well as archival museum-quality exhibit prints
of these and other images are available by special order .


direct inquiries to:
R. Paul Firnhaber
rpfirn@gmail.com

Tartu 80b
71005 Viljandi
Estonia, EU
Telephone: (+) 372 536 7756