the photographer
The photographs of IMAGI RUPESTRE are the work of R. Paul Firnhaber, an independent researcher and imaging specialist in rock art. A US citizen, Firnhaber headquarters in the northern European country of Estonia.
With an academic background in the philosophy of religion, comparative mythology, and art history and theory, Firnhaber finds natural and inevitable parameters for his rock art work in issues such as the sourcing and origins of early spirituality and art, the myth-ritual-art complex, the archetype-metaphor dynamic, and the theoretics of imaging.
Imaging theory, for Firnhaber, primarily takes shape in graphic, photographic and digital imaging, and is concretized in rock art recording and conservation projects on five continents (from Whoopup Canyon in Wyoming to the Côa Valley in Portugal) as well as in "educational-aesthetic" images for presentation and exhibit.
Firnhaber has published fourteen books and scores of articles. His photographic presentations and exhibits in the USA have ranged from the Museum of Modern Art in New York to coffee shops in his home town, plus numerous venues in Europe, Australia, Asia, Latin and South America.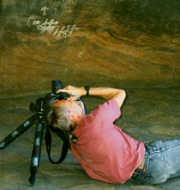 Photo by Chen Zhao Fu
Bhimbetka, India