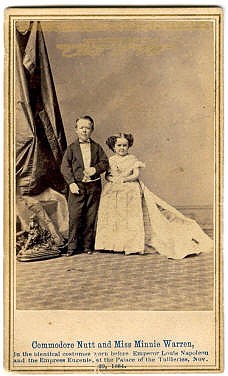 Front of the card.
The copy reads: "Commodore Nutt and Miss Minnie Warren,
in the identical costume worn before the Emperor Louis Napoleon
and the Empress Eugenie at the Palace of Tuilleries,
Nov. 29, 1864."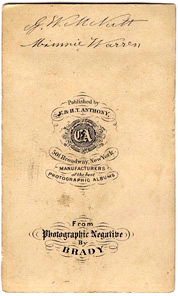 Back of card.
Signature (facsimile) of G. W. McNutt and Minnie Warren.
Stamp of the publisher, E. and H. T. Anthony.
Stamp of the Brady Studio
Known primarily for his Civil War work, Mathew Brady also
did portraits and landscapes. This delightful image is one of Mathew Brady's more popular non-war photographs. The celebrated "little people," Commodore Nutt and Miss Minnie Warren of P. T. Barnum Circus fame, drew global attention, and the photograph of the couple became an early collectible, particularly in the newly popularized format of the
cart d' visite or "visiting card."
This is a very collectible image for a number of reasons: 1) the subject matter, 2) the image is by Mathew Brady, 3) the publisher is the celebrated E. and H. T. Anthony Company, and 4) it is facsimile-signed by McNutt and Warren. Each of these features is clearly visible on either the front or back of the card. The image is from 1864. (A similar version of this card also exists, dated 1865, which nearly, but not quite, replicates the image and refers to the costumes as identical to those worn before Her Majesty Queen Victoria at Windsor Castle, June 24, 1865. That image does not contain the Brady stamp and may not be by Brady.)
This card is in good repair; the image has a visible remainder of a transfer of ink-type marks at the top of the frame, otherwise is in excellent repair. The photographs shown are scans of the original, front and back, and the edges of the card are visible.
The photograph is archivally double-matted and framed in a metal frame.
---